A Hospital Like No Other
"At the heart of Mandaya is the passion to deliver patient-centered care that is personalized to each patient-centered care that is personalized to each patient needs, and at the same time incorporate advanced medical technology that improves patient outcome" – dr Ben Widaja, MBChB(UK), President Director
Mandaya Royal Hospital Puri (MRHP) is designed a world class private hospital in Indonesia. With a total of 250+ inpatient bed capacity, 6 operating theatres, 100+ outpatient examination rooms and advanced equipment's such as Spectral CT Scan, High Gradient MRI, advanced catheter lab with intravascular Ultrasound and many more, Mandaya Royal Hospital Puri is expecting more than thousands patient visits every day.
The hospital is managed by Mandaya Hospital Group, the healthcare subsidiary of Selaras Holding, one of the fastest growing multi-industry corporation focusing mainly on property development, hospitality and healthcare. One of MRHP sister hospital in Indonesia is Mandaya Hospital Karawang, a leading 218-bed general hospital in the growing city of Karawang. With three operating theatres and one catheterization lab, Mandaya Hospital Karawang has been a prominent Trauma Center and Heart Center treatment provider in the region.
Designed to be a national referral hospital, Mandaya Royal Hospital Puri focused on providing high quality medical care not only to patients from Jakarta, but also from other regions and even overseas. Equipped with advanced medical equipment and highly trained doctor, this multi-specialty tertiary hospital combines world class clinical care with outstanding patient and family experience. Mandaya Royal Hospital Puri strives to deliver patient centered care by providing not only from clinical perspective, but also from an emotional, mental, spiritual, social, and financial perspective.
Vision
To provide each patient with the world-class care, exceptional service and compassion we would want for our loved ones.
Mission
Deliver high quality integrated healthcare services to the people
Improving health and well being by providing patient centered care with family involvement
Provide advanced medical care by developing and expanding the hospital centers of excellences
Core Values
Safety: Do the Safe Thing
Patients and families have placed their lives and health in our hands. At Mandaya Hospital our first priority is to protect them from harm. We believe that maintaining the highest safety standards is critical to delivering high quality care and that a safe workplace protects us all.
Excellence: Do the Best Thing
In Mandaya Hospital, only the best will do. We work as a team to bring excellent experiences, advanced technology and best practices to provide the highest quality care for our patients and families. We devote ourselves to continuous improvement, excellence, professionalism and innovation in our work.
Caring: Do the Kind Thing
Every Mandaya Hospital employees touches the lives of the patients and families with great care. We treat those we serve and each other with kindness and compassion, and strive to better understand and respond to the needs of a diverse community. We are passionate in giving our patients the best healing process and therefore delivering superior value to our patients.
Integrity: Do the Right Thing
Our actions tell the world what Mandaya Hospital is and what we stand for. We act ethically and responsibly in everything that we do and hold occountable for our behaviour. We bring respect, openness and honesty to our encounters with patients, families and co-workers and support the well-being of the communities we serve.
Philosophy
We believe that every patients deserve a high standard healthcare services. Our care should be extended to patients' families as they are also indirectly affected by the patients' conditions. The medical care we provide should be patient oriented and delivered by a multidisciplinary team that is driven by the hospital vision, mission and values.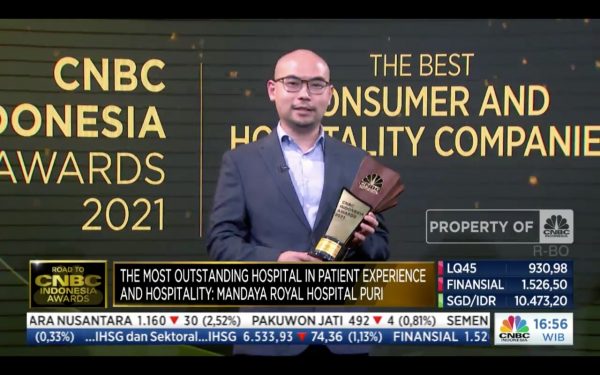 CNBC INDONESIA AWARDS 2021 THE MOST OUTSTANDING HOSPITAL IN PATIENT EXPERIENCE & HOSPITALITY – MANDAYA ROYAL HOSPITAL PURI
Join us to be a part of our journey now!
Position  : Head Quality & Risk
Level        : Manager
Category : Medis
Criteria   :
1. S1 Segala Jurusan (lebih disukai pendidikan medis)
2. Memiliki pengalaman pada posisi yang sama min. 8 tahun
3. Memiliki pengalaman menangani akreditasi nasional dan international (JCI)
4. Tegas dan detail
5. Memiliki kepemimpinan yang baik
Position  : PPI /infection control Coordinator
Level        : Supervisor

Category : Medis
Criteria   :
1. S1 Profesi Keperawatan
2. Memiliki pengalaman pada posisi yang sama min. 5 tahun
3. Tegas dan detail
4. Memiliki kemampuan analisa yang baik
5. Disukai memiliki sertifikasi PPI
6. Disukai pernah bekerja untuk rumah sakit tipe A atau B
Position  : Infection Control Staff

Level        : Officer

Category : Medis
Criteria   :
1. S1 Profesi Keperawatan
2. Memiliki pengalaman pada posisi yang sama min. 3 tahun
3. Tegas dan detail
4. Disukai memiliki sertifikasi PPI
5. Disukai pernah bekerja untuk rumah sakit tipe A atau B
Position  : K3RS Coordinator

Level        : Supervisor

Category : Umum
Criteria   :
1. S1 Segala Jurusan (Lebih disukai Teknik)
2. Memiliki pengalaman pada posisi yang sama min. 5 tahun
3. Tegas dan detail
4. Memiliki kepemimpinan yang baik
5. Disukai memiliki sertifikasi K3 (lebih disukai K3RS)
6. Disukai pernah bekerja untuk rumah sakit tipe A atau B
7. Tergabung dalam keanggotaan K3
Position  : Case Manager

Level        : Manager

Category : Medis
Criteria   :
1. S1 Profesi Dokter
2. Memiliki pengalaman pada posisi yang sama min. 8 tahun
Position  : Head Medical Record

Level        : Manager

Category : Medis
Criteria   :
1. S1 Teknik Rekam Medis
2. Memiliki pengalaman diposisi yang sama min. 5 tahun
3. Memiliki pengalaman menggunakan E-Medical Record
4. Memiliki pengalaman bekerja untuk rumah sakit tipe A atau B
5. Memiliki pengalaman menangani akreditasi national maupun international (JCI)
6. Memiliki kepemimpinan yang baik dan tegas
7. Memiliki inisiatif yang tinggi dalam membawa perbaikan
8. Memiliki STR Aktif
Position  : Head Pharmacy

Level        : Manager

Category : Medis
Criteria   :
1. S2 Farmasi
2. Memiliki pengalaman diposisi yang sama min. 5 tahun
3. Memiliki pengalaman bekerja untuk rumah sakit tipe A atau B
4. Memiliki pengalaman menangani akreditasi national maupun international (JCI)
5. Memiliki kepemimpinan yang baik dan tegas
6. Memiliki inisiatif yang tinggi dalam membawa perbaikan
7. Memiliki STR Aktif
Position  : Pathology Anatomy Technician

Level        : Officer

Category : Medis
Criteria   :
1. D3 Analis Kesehatan
2. Memiliki pengalaman diposisi yang sama min. 2 tahun (lebih disukai)
3. Memiliki STR Aktif
Position  : Microbiology Technician

Level        : Officer

Category : Medis
Criteria   :
1. D3 Analis Kesehatan
2. Memiliki pengalaman diposisi yang sama min. 2 tahun (lebih disukai)
3. Memiliki STR Aktif
Position  : Blood Bank Technician

Level        : Officer

Category : Medis
Criteria   :
1. D3 Teknik Transfusi Darah
2. Memiliki pengalam diposisi yang sama min. 2 tahun (lebih disukai)
3. Memiliki STR Aktif
Position  : Analist Lab

Level        : Officer

Category : Medis
Criteria   :
1. D3 Analis Kesehatan
2. Memiliki pengalaman diposisi yang sama min. 2 tahun (lebih disukai)
3. Memiliki STR Aktif
Position  : Supervisor Physiotherapist

Level        : Supervisor

Category : Medis
Criteria   :
1. D3 Fisioterapi
2. Memiliki pengalaman diposisi yang sama min. 5 tahun
3. Memiliki pengalaman bekerja untuk rumah sakit tipe A atau B
4. Memiliki pengalaman menangani akreditasi national maupun international (JCI)
5. Memiliki kepemimpinan yang baik dan tegas
6. Memiliki inisiatif yang tinggi dalam membawa perbaikan
7. Memiliki STR Aktif
Position  : Supervisor Physiotherapist

Level        : Supervisor

Category : Medis
Criteria   :
1. D3 Fisioterapi
2. Memiliki pengalaman diposisi yang sama min. 5 tahun
3. Memiliki pengalaman bekerja untuk rumah sakit tipe A atau B
4. Memiliki pengalaman menangani akreditasi national maupun international (JCI)
5. Memiliki kepemimpinan yang baik dan tegas
6. Memiliki inisiatif yang tinggi dalam membawa perbaikan
7. Memiliki STR Aktif
Position  : Koordinator Endoscopy

Level        : Supervisor

Category : Medis
Criteria   :
1. S1 Profesi Keperawatan
2. Memiliki pengalaman diposisi yang sama min. 8 tahun
3. Memiliki pengalaman bekerja untuk rumah sakit tipe A atau B
4. Memiliki kepemimpinan yang baik dan tegas
5. Memiliki inisiatif yang tinggi dalam membawa perbaikan
6. Memiliki STR Aktif
Position  : Nurse Oncology

Level        : Officer

Category : Medis
Criteria   :
1. S1 Profesi Keperawatan
2. Memiliki pengalaman diposisi yang sama min. 2 tahun
3. Memiliki pengalaman bekerja untuk rumah sakit tipe A atau B
4. Memiliki STR Aktif
Position  : Head Nurse

Level        : Supervisor

Category : Medis
Criteria   :
1. S1 Profesi Keperawatan
2. Memiliki pengalaman diposisi yang sama min. 8 tahun
3. Memiliki pengalaman bekerja untuk rumah sakit tipe A atau B
4. Memiliki kepemimpinan yang baik dan tegas
5. Memiliki inisiatif yang tinggi dalam membawa perbaikan
6. Memiliki STR Aktif
Position  : Ambulance Driver

Level        : Officer

Category : Umum
Criteria   :
1. Pria
2. Memiliki SIM B atau B1
3. Memiliki pengalaman pada posisi yang sama lebih disukai
4. Sehat jasmani dan rohani
5. Bersedia bekerja shift
Position  : Head Nurse ICU/HCU/ICCU

Level        : Supervisor

Category : Medis
Criteria   :
1. S1 Profesi Keperawatan
2. Memiliki pengalaman diposisi yang sama min. 8 tahun
3. Memiliki pengalaman bekerja untuk rumah sakit tipe A atau B
4. Memiliki kepemimpinan yang baik dan tegas
5. Memiliki inisiatif yang tinggi dalam membawa perbaikan
6. Memiliki STR Aktif
Position  : Head Nurse OT

Level        : Supervisor

Category : Medis
Criteria   :
1. S1 Profesi Keperawatan
2. Memiliki pengalaman diposisi yang sama min. 8 tahun
3. Memiliki pengalaman bekerja untuk rumah sakit tipe A atau B
4. Memiliki kepemimpinan yang baik dan tegas
5. Memiliki inisiatif yang tinggi dalam membawa perbaikan
6. Memiliki STR Aktif
Position  : Nurse OT

Level        : Officer

Category : Medis
Criteria   :
1. S1 Profesi Keperawatan
2. Memiliki pengalaman diposisi yang sama min. 3 tahun
3. Memiliki sertifikasi kamar operasi
4. Memiliki pengalaman bekerja untuk rumah sakit tipe A atau B
5. Memiliki STR Aktif
Position  : Nurse Anesthesi

Level        : Officer

Category : Medis
Criteria   :
1. S1 Profesi Keperawatan
2. Memiliki pengalaman diposisi yang sama min. 3 tahun
3. Memiliki sertifikasi kamar operasi
4. Memiliki pengalaman bekerja untuk rumah sakit tipe A atau B
5. Memiliki STR Aktif
Position  : Head CSSD

Level        : Supervisor

Category : Medis
Criteria   :
1. S1 Profesi Keperawatan
2. Memiliki pengalaman diposisi yang sama min. 3 tahun
3. Memiliki sertifikasi kamar operasi
4. Memiliki pengalaman bekerja untuk rumah sakit tipe A atau B
5. Memiliki STR Aktif
Position  : Nurse

Level        : Officer

Category : Medis
Criteria   :
1. S1 Profesi Keperawatan
2. Memiliki pengalaman diposisi yang sama min. 3 tahun
3. Memiliki sertifikasi kamar operasi
4. Memiliki pengalaman bekerja untuk rumah sakit tipe A atau B
5. Memiliki STR Aktif
Position  : Head Critical Area dan OPM

Level        : Manager

Category : Medis
Criteria   :
1. S1 Profesi Keperawatan
2. Memiliki pengalaman diposisi yang sama min. 8 tahun
3. Memiliki sertifikasi kamar operasi
4. Memiliki pengalaman bekerja untuk rumah sakit tipe A atau B
5. Memiliki kepemimpinan yang baik dan tegas
6. Memiliki inisiatif yang tinggi dalam membawa perbaikan
7. Memiliki STR Aktif
Position  : Clinical Nurse Educator / Nursing Development

Level        : Supervisor

Category : Medis
Criteria   :
1. S1 Profesi Keperawatan
2. Memiliki pengalaman diposisi yang sama min. 8 tahun
3. Memiliki pengalaman bekerja untuk rumah sakit tipe A atau B
4. Memiliki motivasi mengajar
5. Tegas dan detail
6. Memiliki inisiatif yang tinggi untuk membawa perbaikan dan peka terhadap lingkungan
7. Memiliki STR Aktif
Position  : Wound Care Nurse

Level        : Officer

Category : Medis
Criteria   :
1. S1 Profesi Keperawatan
2. Memiliki pengalaman diposisi yang sama min. 3 tahun
3. Memiliki sertifikasi kamar operasi
4. Memiliki pengalaman bekerja untuk rumah sakit tipe A atau B
5. Memiliki STR Aktif
Position  : Diabetic Nurse Coordinator

Level        : Coordinator

Category : Medis
Criteria   :
1. S1 Profesi Keperawatan
2. Memiliki pengalaman diposisi yang sama min. 3 tahun
3. Memiliki sertifikasi Perawat Diabetic
4. Memiliki pengalaman bekerja untuk rumah sakit tipe A atau B
5. Memiliki STR Aktif
Position  : Pain Nurse

Level        : Coordinator

Category : Medis
Criteria   :
1. S1 Profesi Keperawatan
2. Memiliki pengalaman diposisi yang sama min. 3 tahun
3. Memiliki sertifikasi Perawat Diabetic
4. Memiliki pengalaman bekerja untuk rumah sakit tipe A atau B
5. Memiliki STR Aktif
Position  : Refractionist

Level        : Entry Level

Category : Medis
Criteria   :
1. D3 Teknik Refraksionis
2. Memiliki pengalaman diposisi yang sama min. 2 tahun (lebih disukai)
3. Memiliki STR Aktif
Position  : Head Nurse Surgical

Level        : Supervisor

Category : Medis
Criteria   :
1. S1 Profesi Keperawatan
2. Memiliki pengalaman diposisi yang sama min. 8 tahun
3. Memiliki sertifikasi kamar operasi
4. Memiliki pengalaman bekerja untuk rumah sakit tipe A atau B
5. Memiliki kepemimpinan yang baik dan tegas
6. Memiliki inisiatif yang tinggi dalam membawa perbaikan
7. Memiliki STR Aktif
Position  : Nurse Surgical

Level        : Entry Level

Category : Medis
Criteria   :
1. S1 Profesi Keperawatan
2. Memiliki pengalaman diposisi yang sama min. 3 tahun
3. Memiliki sertifikasi kamar operasi
4. Memiliki pengalaman bekerja untuk rumah sakit tipe A atau B
5. Memiliki STR Aktif
Position  : Biomedical Technician

Level        : Entry Level

Category : Medis
Criteria   :
1. D3 Teknik Elektro Medis
2. Memiliki pengalaman diposisi yang sama min. 2 tahun (lebih disukai)
3. Memiliki STR Aktif
Position  : HRD Head

Level        : Manager

Category : Umum

Criteria   :
1. S1 Segala Jurusan
2. Memiliki pengalaman diposisi yang sama min. 8 tahun
3. Memiliki pengalaman bekerja di rumah sakit lebih disukai
4. Memilki sertifikat CHRP lebih disukai
5. Memilki pengalaman menangani 1000 manpower
6. Mampu membuat TNA perusahaan
7. Memiliki pengalaman OD (Organization Development) lebih disukai
8. Tegas dan detail
9. Memiliki kepemimpinan yang baik dan tegas
10. Memiliki inisiatif yang tinggi dalam membawa perbaikan
Position  : Koordinator Training & Education

Level        : Koordinator

Category : Umum
Criteria   :
1. S1 Segala Jurusan
2. Pria
3. Memilki pengalaman sebagai trainer min. 5 tahun
4. Memiliki kemampuan persuasi yang baik
5. Memiliki pengalam di rumah sakit lebih disukai
Position  : Head Marketing

Level        : Manager

Category : Umum
Criteria   :
1. S1 Segala Jurusan
2. Memiliki pengalaman diposisi yang sama min. 8 tahun
3. Memiliki pengalaman bekerja di rumah sakit lebih disukai
4. Memiliki kemampuan komunikasi yang baik
5. Mampu bekerja dengan target
6. Kreatif dan inovatif
7. Tegas dan detail
8. Memiliki kepemimpinan yang baik dan tegas
9. Memiliki inisiatif yang tinggi dalam membawa perbaikan
Position  : Referal

Level        : Supervisor

Category : Umum
Criteria   :
1. S1 Segala Jurusan
2. Memiliki pengalaman diposisi yang sama min. 5 tahun
3. Memiliki pengalaman bekerja di rumah sakit lebih disukai
4. Memiliki kemampuan komunikasi yang baik
5. Mampu bekerja dengan target
6. Kreatif dan inovatif
Position  : Sales Corporate

Level        : Supervisor

Category : Umum
Criteria   :
1. S1 Segala Jurusan
2. Memiliki pengalaman diposisi yang sama min. 5 tahun
3. Memiliki pengalaman bekerja di rumah sakit lebih disukai
4. Memiliki kemampuan komunikasi yang baik
5. Mampu bekerja dengan target
6. Kreatif dan inovatif
Position  : Komunitas

Level        : Supervisor

Category : Umum
Criteria   :
1. S1 Segala Jurusan
2. Memiliki pengalaman diposisi yang sama min. 5 tahun
3. Memiliki pengalaman bekerja di rumah sakit lebih disukai
4. Memiliki kemampuan komunikasi yang baik
5. Mampu bekerja dengan target
6. Kreatif dan inovatif
Position  : Head Business Office

Level        : Manager

Category : Umum
Criteria   :
1. S1 Segala Jurusan
2. Memiliki pengalaman diposisi yang sama min. 8 tahun
3. Memiliki pengalaman bekerja di rumah sakit lebih disukai
4. Memiliki kemampuan komunikasi yang baik
5. Memiliki kemampuan problem solving yang baik
6. Customer oriented
7. Tegas dan detail
8. Memiliki kepemimpinan yang baik dan tegas
9. Memiliki inisiatif yang tinggi dalam membawa perbaikan
Position  : Patient Experience Officer

Level        : Entry Level

Category : Umum
Criteria   :
1. S1 Segala Jurusan (lebih disukai Perawat atau Bidan)
2. Memiliki kemampuan komunikasi yang baik
3. Customer oriented
4. Fasih berbahasa Inggris
5. Memiliki energi yang positif
Position  : Customer Service Officer

Level        : Entry Level

Category : Umum
Criteria   :
1. S1 Segala Jurusan
2. Memiliki pengalaman dibidang yang sama min. 3 tahun
3. Memiliki kemampuan komunikasi yang baik
4. Customer oriented
5. Fasih berbahasa Inggris
6. Memiliki energi yang positif
Position  : Head Purchasing

Level        : Manager

Category : Umum
Criteria   :
1. S1 Segala Jurusan
2. Memiliki pengalaman diposisi yang sama min. 8 tahun
3. Memiliki pengalaman bekerja di rumah sakit lebih disukai
4. Memiliki kemampuan komunikasi dan negosiasi yang baik
5. Mampu bekerja dengan dateline yang cepat
6. Memiliki pengalaman menangani project lebih disukai
7. Tegas dan detail
8. Memiliki kepemimpinan yang baik dan tegas
9. Memiliki inisiatif yang tinggi dalam membawa perbaikan
Kirimkan surat lamaran dan CV kamu ke email recruitment@mandayamedical.grup dengan subjek Nama – Posisi
Mandaya Puri
Jl. Metland Boulevard Lot. C-3 Metland Cyber City Puri, Parung Jaya, Karang Tengah, Kota Tangerang, Banten 15159