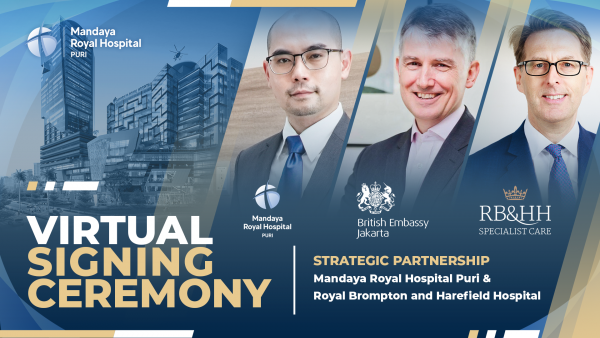 INTERNATIONAL PARTNERS 
In close collaboration with Royal Brompton & Harefield Hospital in London, UK, we are able to share diagnostic results, the same tests that would be taken if you were actually at Royal Brompton, and have their consultant specialist doctors give their opinion on diagnosis. 
If desired we can then set up an online video meeting between the patient, the patient's family, the medical team here from Mandaya Royal Hospital Puri, and the consultants team in Royal Brompton & Harefield Hospital in London, UK. Together, we can all discuss the best treatment plan and options for the patient and family to consider. 
In this way, we can absolutely guarantee top class International medical expertise right here in Indonesia, without the need for costly, inconvenient and often stressful overseas travel. 
With a history dating back more than 100 years, Royal Brompton & Harefield forms the largest heart and lung specialist center in the UK, with dedicated experts and cutting-edge research that are among the best in the world. Additionally, Royal Brompton & Harefield Hospitals will provide education and remote training for MRHP's healthcare professionals, collaborate to host joint events, and cooperate to set up state-of-the-art cardiorespiratory services at MRHP. 
"We are attempting something absolutely unique in healthcare in Indonesia. It won't only be achieved through the state-of-the-art technology we will have, although this is obviously an integral part of being able to offer clinical excellence," said Dr. Benedictus R. Widaja, President Director of Mandaya Hospital Group. "This is where our collaboration with Royal Brompton and Harefield is vital. Our commitment to openly communicate with patients and their families, to welcome and encourage collaboration between patients, their families, and healthcare professionals in Indonesia and in London, is an integral part of that patient-and-family-centered culture that we are fostering here at Mandaya Royal Hospital Puri." 
A step forward in reaching Mandaya Royal Hospital Puri's goal to be the leading cardiovascular center in Indonesia, the partnership is a monumental effort towards MRHP's commitment to provide personalized clinical excellence and patient-and-family-centered care, where patients are provided the best in medical expertise, not only in Indonesia but also at the world-class level that Royal Brompton and Harefield Hospitals is renowned for. 
Signing Ceremony Video.